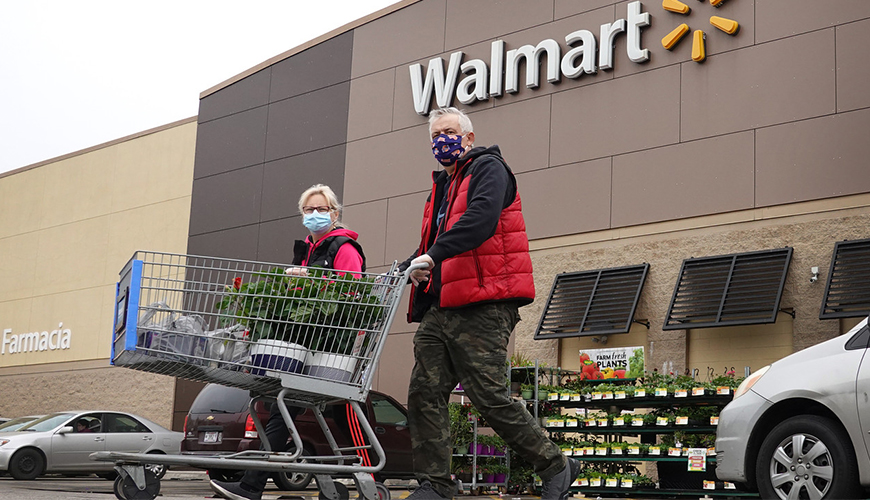 By Erik Rosenstrauch
The coronavirus pandemic has changed people's immediate and long-term purchase decisions about what, how, where and when to buy. The new shopping behavior is based upon unique needs and risk tolerance. World War II was the last global event that drove such immediate change in the United States. Now, with COVID-19, businesses are having to respond to a new breed of shopper.
Essential shopping is open in all 50 states and consumer traffic continues to be strong. Yet some parts of the population aren't comfortable about going to stores and are seeking other methods to get the products they need. This had led to the dramatic expansion of the delivery and fulfillment economy to partially fill the gap. Instacart, Postmates and Walmart, for example, are each hiring tens of thousands of workers to meet surging demand for personal shopping, order fulfillment and delivery services.
Amazon.com, meanwhile, is adding 175,000 employees and spending more than $4 billion just in personal protective equipment for its workers. Uber is shifting some of its emphasis to its Uber Eats unit, adding to its workforce.  Costco, CVS, Kroger, Publix, Pizza Hut, Dominos, Papa John's — also are on a hiring spree
While many expect the shift towards tech-enabled retail and the supply chain to normalize once COVID-19 passes, we do not. Fundamental shifts in shopping behavior and changes to the U.S. economy will continue beyond the pandemic. Here's how this looks from the perspective of four different types of affected consumers:
Well-heeled & waiting:

 

This fortunate minority of Americans can afford to wait until a coronavirus vaccine sounds the "all-clear" to reengage with the economy.  They are risk-avoiders and have the luxury to self-quarantine.  In an economic recession or depression, the number of wealthy people always shrinks.  This category represents a small percentage of U.S. households.
Send help now:: 

 

This category of risk-avoiders include those who are older, people with pre-existing conditions or health concerns, and the caretakers of those with such issues.  They cannot venture out due to serious concerns about their health and welfare.  Therefore, they need help to survive; from family, friends and government resources.  Unfortunately, this group is growing as more Americans file for unemployment.
Back to work:

 

The majority of Americans will return to work and accept the new level of increased risk and inconvenience. These frontline workers include police, fire, medical, transportation, some retail employees, as well as many factory and office employees.  This group feels some economic hardship, and buying behavior is changing incrementally.  This group includes a new, rapidly expanding class of workers who are paid to bear the burdens of delivery and fulfillment for others.  This supply of workers comes from those who may have lost employment elsewhere, those new to the workforce, and those who voluntarily opt into the new, less-structured form of employment.  Millions of Americans supplement their income with delivery jobs to make ends meet, or to provide for those who need extra help.  In addition, as COVID antibody testing becomes more reliable and widely available, the percentage of the population with immunity will be better understood.  Those with immunity due to prior COVID exposure will benefit economically.
Pre-vax relax:

 

Some consumers have the resources to wait for the coronavirus to be eradicated or until a vaccine is produced, but they're not inclined to do so.  This group is the most surprising to the critics.  Fear of the unknown is less important than the ability to choose how to live one's life.  These shoppers are going into retail stores for what they need and want.  Most are following local ordinances regarding social distancing but are moving forward with their lives into the "new reality", thereby helping to create a new economy.
These four consumer groups will each shop in new and diverse ways, and this change in behavior will, in turn, drive the expansion of existing services and brands. COVID is forcing the marketplace to the precipice of another wave of new and innovative services that will transform the retail industry, both physical and online.
Erik Rosenstrauch is president and CEO of retail marketing firm FUEL Partnerships